If you are a student between the ages of 13 and 18, and are looking for a place to go after school to spend time with friends, meet new people, and take advantage of opportunities to build leadership, refine artistic abilities, perfect and improve athletic skills, and prepare you for the future, come to the Boys & Girls Club of Greater Lowell!  We have specially designed programs for teens to challenge you physically, academically and artistically, and can provide you with the guidance and support to develop into an upstanding student and citizen.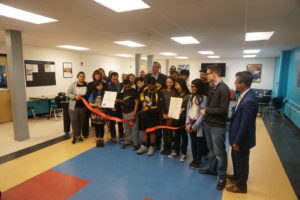 Our new Teen Center is now open!
Featuring: a spacious Teen Lounge
Career & College Readiness Center and computer lab
Teen Robotics and STEM Room
Our Teen Club Members enjoy their own Teen Center separate from younger members, and supervised by trained Teen Coordinators focused on providing services and activities for teenagers.  Complete with games, computers, couches, air hockey and foosball, tables for homework and other projects, and a TV for movie nights, the Teen Lounge is the ideal after school destination. In addition, we offer tutoring and homework help, college and workforce readiness programs and group meetings in our new Career & College Readiness Center, and a variety of Science, Technology, Engineering and Math programs in our new Teen Robotics Room.
Our Club is open daily  from 6:00 – 8:00 PM exclusively for teens, giving teen Club members complete access to all of our program areas. The annual membership fee for teens is just $5.
Read about opportunities for teens provided through our Pathways Initiative
Below is a list of Teen Programs offered to all teen members:
Diplomas 2 Degrees
Diplomas 2 Degrees is our college and career preparation program, which gives teens the support and guidance needed for setting future education and career goals, and planning the steps to achieve those goals. Through weekly meetings and workshops, college and workplace tours, and professional networking events, teen Club Members prepare themselves to take charge of their futures.  See our Education and Career Development page for more information!
Keystone Club
Keystone Club is our premier teen leadership group for Club members between the ages of 14 and 18.  If you are looking to join a group of highly motivated teens, build your leadership skills, and make a positive impact on the Club and Lowell community, Keystone Club is perfect for you!  Keystoners elect their own officers, plan and implement self-guided community service and fundraising projects, and act as ambassadors for the youth at the Boys & Girls Club of Greater Lowell.  See our Character and Leadership page for more information!
Leaders-In-Training Internship
All teen Club Members have the opportunity to join our Leaders-In-Training Internship program, and gain early work experience and critical professional development advice here at the Boys & Girls Club of Greater Lowell. Participants will assist staff in providing programs for younger Club Members, volunteer at community events throughout Lowell, build a Career portfolio complete with resume and cover letter, learn how to network professionally, and have a successful job interview. And all teens participating in our 3-month internship receive a monthly stipend check for their involvement!  See our Character and Leadership page for more information about this amazing opportunity!
Girl Talk
Girl Talk is a female only teen program with the focus of empowering our young women to become strong, confident, and successful members of their schools and communities.  Weekly meetings discuss a variety of topics, providing female teen Club members a safe environment to face the challenges arising as they grow and mature in adults. Topics include setting future goals, social media and body image, healthy relationships, drugs and alcohol, bullying, and more.
Brother 2 Brother
Brother 2 Brother is the males-only equivalent to Girl Talk, and focuses on providing our young men the supportive space to discuss topics that affect them as they mature into adults. Weekly meetings discuss many of the same topics listed above, and aim to improve male Club members preparedness for the future, and confidence as they go through changes involved with becoming adult citizens and community members.
SKY Program
The SKY Program has a simple but powerful focus: the Sky is the Limit.  Teen Coordinators began the SKY Program as a way to engage teens in exploring different goals and career options for the future in a non-judgmental and engaging environment.  Participants are challenged to think about their future goals, what kind of life they hope to lead, and making backup career plans.  
Evolution of Hip-Hop
Join our Teen Coordinator and DJ Ricky for a program all about music, the meaning behind songs, and how past artists and genres have affected popular music today.  With a special focus on the progression of hip-hop music, Ricky challenges teens to explore past hip-hop artists, look more closely at song lyrics to determine their message and meaning, and take a more active role in listening to music. This program is a must for any music lovers.
#What's Happening?
#What's Happening? is a weekly discussion based program aimed at assisting teen Club members in finding their own voice and opinions about current events, ethical dilemmas, and societal trends. By providing an open space for sharing reactions, emotions, and opinions, teens learn how to think critically, respect differing opinions, share their own thoughts with others, and plan to make positive change in their own community. Topics discussed include the current Presidential Election, police brutality and the Black Lives Matter movement, issues faced by teens in Lowell, and any topics of interest and concern to our teen Club members.
Movie Tuesday
Kick back and relax on Tuesday Nights starting at 6:00pm with weekly, age-appropriate movies in the Teen Room! Movies are selected both by members and Teen Coordinators.
Our Teen Programs don't stop there, either.  Be sure to visit the pages for our Music Clubhouse, as well as our Athletics, Arts and Technology program areas for more amazing programs offered only to teens.  Everyday between 5:00pm and 8:00pm, these areas run teen-only programs aimed to challenge and and engage teens in developing a variety of skills and abilities, while sparking inspiration for new hobbies and endeavors.