Did you know that only 16% of children who live in very low income households for half their childhood will become connected to school or work as young adults and not be poor at age 30?*
Teens who come from low income or very low income families often struggle to become a productive part of the next generation workforce.
Often they take any job that becomes available to help meet their family's basic needs.
Family members might not be prepared to help them set goals, understand the importance of education and/or model basic workforce skills.
Even parents who value education and a career for their teen often lack the background and resources to help their teen navigate a path to college and a career.  Ratcliffe, C. and Kalish, E. "Escaping Poverty: Predictors of Persistently Poor Children's Economic Success." Urban Institute. (2017).
Without mentoring and workforce development, these teens will settle for what they have grown up seeing in their families and neighborhoods or meet society's often low expectations for them, continuing the cycle of generational poverty.
The Club's new MVP (Motivation, Voice, Preparation) program is designed to support teen athletes who live in low income households become prepared for career and/or college success after high school.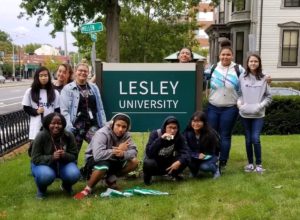 Support the MVP Program this Giving Tuesday – Click here to make your donation, or read on for more information.
MVP invites teens who participate in our travelling basketball and volleyball teams to also focus on:
Education – Ensuring teens graduate from high school on time
Study groups and regular check ins help support their academic success
Athletes will be expected to make an effort to keep their grades up in order to participate in travelling athletic teams.
Career Exploration – Teens will begin to visualize themselves in career paths beyond what they have seen in their families, neighborhoods and media.
Mixers with local professionals and networking events will introduce teens to new career paths.
Work-based Learning Experiences – Expose teens to the expectations of the world around them.
Junior Staff and Youth Leaders Program help teens get first work experiences in a supportive environment at the Club.
Coaching and mentorships help prepare youth for successful employment
First Job Skills and Support – Supporting the development of soft-skills valued by employers
Workshops in resume writing and interviewing
Support in completing job applications
Mentorship – Our Staff often believe in our members' potential before they discover it for themselves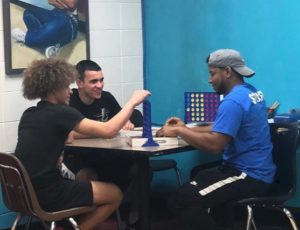 "MVP has made me realize the importance of grades and staying healthy mentally and physically. It has made me grow as a person and not just an athlete."
– Damian, 17
Here's how you can help:
The MVP program will serve up to 40 members of our travelling basketball and volleyball programs this spring. During the course of the season, these athletes will participate in Diplomas 2 Degrees for Athletes, a weekly session that includes career exploration, guidance for job and college applications, support with resume writing and more. Additionally, these Club members would participate in weekly study sessions with available tutors, and academic check-ins with mentors on our staff.
Help us raise $15,000 this Giving Tuesday to support the MVP program this winter. You could change the trajectory of a young person's life.
Click here to make your donation.