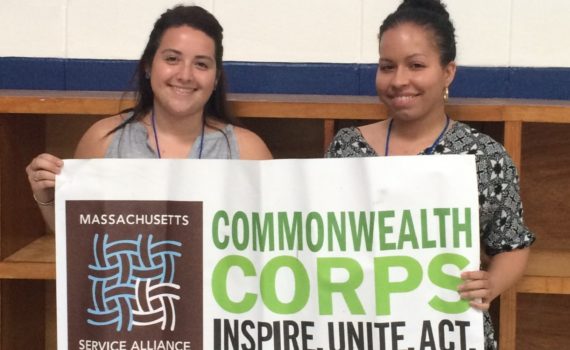 Meet our 2017-2018 Commonwealth Corps Volunteers
We are thrilled to have the opportunity to work with Sara McNiff and Elaine Rezende through the Massachusetts Service Alliance Commonwealth Corps Volunteer program. Sara and Elaine will be working with us throughout the 2017-2018 school year, as our Fitness and Health Education Coordinator and Nutrition Education Coordinator, respectively.
Sara McNiff is from Lowell Massachusetts.  She recently graduated from Bridgewater State University this past May of 2017 with a Bachelors in Physical Education. Sara has been involved in sports for as long as she can remember, whether it be gymnastics, cheerleading or Track and Field. She thought that the fitness and health route would be a good fit for her which is why she chose to do a year of service with the Commonwealth Corps at the Boys & Girls Club of Greater Lowell, focusing on Fitness and Health aspects. She is excited to begin this new chapter in her life.
Elaine Rezende is from the Virgin Islands and attended Hofstra University in Long Island for four years and graduated with a BA in Criminal Justice. She moved to Boston a year ago to serve at UTEC with young adults in the community of Lowell. During her year of service, she provided hands-on skills, professional development, and volunteered in different organizations. I chose the Boys & Girls Club of Greater Lowell to continue improving her growth in public speaking and leadership skills. Elaine is looking forward to seeing a positive change with the young adults and kids in the community.