One of the goals that our Boys & Girls Club of Greater Lowell has for the young people we serve is that they graduate from high school ready for college, trade school, military service, or employment. Occupations in Science, Technology, Engineering, and Mathematics (STEM) are projected to grow by more than 9 million in the U.S. between 2012 and 2022. Many studies have shown that there are shortages of both interested and adequately prepared youth in STEM subjects, especially minority youth and girls.
Our Arts & Technology programs are designed to spark an interest in these subject areas, and expose our members to potential career paths that they might find challenging, exciting and within their reach.
Teen Creative Design
 In this program Teen members the learn the basics of Graphic Design concepts as well as how to use software like Adobe Photoshop, & Illustrator.
Fashion Design
 This program introduces members to the field of fashion. They explore different fashion designers and learn to create their own look book. Members also learn to use different tools like a drawing pad and Illustrator to master their design techniques. All members in the program will have a chance to create a full size dress out of newspaper & tissue paper as a final project.
Photography
(Spring / Summer May – Aug)
Club members in the photography program learn technical terms used in the professional field and shooting techniques that will allow them to create great photography pieces in a short period of time. Members also have the option of traveling to different places to practice and master their photography techniques.
FLL (FIRST LEGO® League) Robotics –
(Fall / Winter Sept – Dec) Tomorrow's innovators practice imaginative thinking and teamwork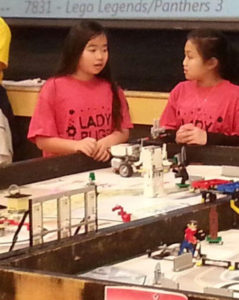 Guided by two or more adult coaches, FIRST LEGO® League* teams (up to 10 members, grades 4-8) research a real-world problem such as food safety, recycling, energy, etc., and are challenged to develop a solution. They also must design, build, program a robot using LEGO MINDSTORMS®, and then compete on a table-top playing field.
It all adds up to tons of fun while they learn to apply science, technology, engineering, and math concepts (STEM), plus a big dose of imagination, to solve a problem. Along their discovery journey, they develop critical thinking and team-building skills, basic STEM applications, and even presentation skills, as they must present their solutions with a dash of creativity to judges, in addition to practicing the Program's Core Values.
FIRST Robotics Competition
Offered by the Boys & Girls Club of Lowell partnered with UMASS Lowell. This program teaches teens to work as a team while they problem solve and develop engineering skills to achieve a common goal.
Combining the excitement of sport with the rigors of science and technology, we call FIRST Robotics Competition the ultimate sport for the mind. High-school student participants call it "the hardest fun you'll ever have." Under strict rules, limited resources, and an intense six-week time limit, teams of 20 or more students are challenged to raise funds, design a team, create a "brand," hone teamwork skills, and build and program industrial-size robots to play a difficult field game against like-minded competitors. It's as close to real-world engineering as a student can get. Volunteer professional mentors lend their time and talents to guide each team. Each season ends with an exciting FIRST Championship.
Skill Tech
 This program Club members about the basics of computer and internet, such as how to use MS Word, PowerPoint, & Publisher. Members in this program have written story books, while other members helped illustrate them.
Aviation
 Teens in the aviation program build airplanes as a team, learn aviation terminology that is used in the field, and also learn to fly on the flight simulator. Once members have passed the fight simulator they will have a chance to fly the airplane they have built outside in a field.
Animation-ish
This is an easy-to-use animation software program that inspires creativity and enables children to "show what they know."
Animation-ish…
        

Sparks creative thinking and imagination!

        

Provides engaging activities that integrate creativity across the curriculum.

        

Helps create lively lessons and improve understanding through visual representation.

        

Boosts technology literacy skills.

        Helps members learn

 the basics of animation

        

Supports beginner web-authoring skills and graphic design.
Animation-ish includes three levels that provide students from K-12 with a fun, rewarding experience that fosters the ability to animate across the curriculum with confidence!
        

Wiggledoodle-ish

provides a simple set of tools to draw, trace, and animate with just three frames. You can also import and trace any graphic. Creative and fun!

        

Flipbook-ish

includes an infinite number of frames so you can create longer animations that teach or "show what you know."

        

Advanced-ish

introduces the mover tool, which allows for more complex animations using foregrounds, backgrounds, and movement across the screen.
MegaMind
Club members team up in groups to problem solve using basic creative engineering techniques and finding solutions to weekly challenges using STEM. These activities are open to all Club members. MegaMind will open the door to future STEM programs available at the club. This program also allows members that didn't get a chance to sign up to the LEGO® FLL Program to be a part of a fun LEGO® learning experience.
Additional STEM Activities
Hour of Code:
This one-hour introduction to computer science is designed to demystify code and show that anybody can learn the basics. One hour is just long enough to learn that computer science is fun and creative, that it is accessible at all ages, for all students, regardless of background.
Intro To Engineering:
 This activity welcomes members to the field of engineering with 25 experiments and building projects in five sections. By engaging in hands-on activities, Club members will learn how engineers apply their scientific and technical knowledge to design machines and devices.
Members start by learning some engineering basics with experiments on levers, forces, and pulleys, then build simple devices using these basic components. Members then move on to explore engineering on land by building vehicles with wheels, such as a race car and a wind-up car. Members will also investigate engineering with air and in the air by building a helicopter, a pinwheel, a parachute, a glider, a balloon rocket, and an air-powered carousel. Then,they build a diving bell, a sailboat, and a paddleboat to experiment with engineering in water. Finally, they will learn to find engineering in their own homes with experiments modeling the telephone and television.
Hour Of Code & Scratch:
This is an opportunity for every member to try computer science for one hour. Members learn the basic concepts of computer science with drag and drop programming. This is a game like atmosphere with self-directed tutorial videos and different challenge levels for all ages.
Snap Circuits:
Learning electronics can be easy and fun! Members follow the colorful pictures in our manual and build exciting projects, such as a flying saucer, digital voice recorders, Fiber Optics, burglar alarms, doorbells, strobe effects, LED color spectrum, wacky buzzer, light sound & motion, and much more. Members can even play electronic games with their friends. All parts are mounted on plastic modules and snap together with ease.
LEGO® & K'NEX Engineering: 
This activity assists Club members in their study of history, function, structural design, geometry and strength of bridges. They also investigate concepts related to the physical properties of materials and their application in the placement, design, and construction of bridges.
Members in this program will be introduced to the field of engineering and mathematics. They'll learn to work in groups and come up with concepts in finding solutions to a challenge. This is taught through problem-solving, discovery, investigating, discussing, and evaluating any scientific and design principles.
Khan Academy:
Practice exercises, instructional videos, and a personalized learning dashboard empower learners to study at their own pace in and outside of the classroom. We tackle math, science, computer programming, history, art history, economics, and more. Our math missions guide learners from kindergarten to calculus using state-of-the-art, adaptive technology that identifies strengths and learning gaps. Khan Academy also partners with institutions like NASA, The Museum of Modern Art, The California Academy of Sciences, and MIT to offer specialized content.