The Club provides programs that help develop fitness, a positive use of leisure time, reduction of stress, appreciation for the environment, and social and interpersonal skills.
Run PAL with Officer George (12 and under)
Twice a week, Club members (12 and under) can take part in a physical fitness program which includes running and calisthenics (such as:  jumping jacks, push ups, and sit ups) with one of Lowell's finest police offers.
NFL Flag Football (12 and under and Teens)
Twice a week, Club teams compete against each other for the chance to play in the Turkey Bowl. Emphasis is placed on teamwork, sportsmanship, fair play and dedication. This program is very popular for all members. We start the season every year at the beginning of fall. The league is co-ed for both our 12 and under members and teens.
Gilmore Girls
This Yankee Chapter Award winning program is for female members only. The program focuses on fitness, cardio vascular exercise, meditation, and building self-esteem. Our female participants learn to establish girl power and use these tools to face peer pressure when it arises.
Stay Fit (12 and Under
)
This is a fast moving heart rate boosting program is for club members 12 and under. the program includes running, jumping games and much…much…more. The program is geared to help the young members be active in a fun and safe environment.
Stay Fit (Teens)
For our teens they introduced to fitness by being able to use our newly renovated Planet Fitness mini-judgement free zone Fitness Center. They are introduce to fitness programs to help them understand the importance of healthy living. Each teen goes through and orientation on the proper use on how to use the fitness equipment before they are allowed to participate.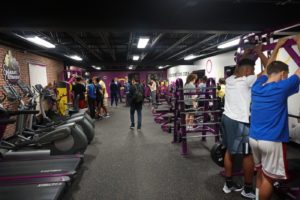 Dance (12 and under and Teens)
Twice a week our club members can enjoy the beauty of learning different dance moves and steps. The program is designed to help our club members meet the Club's core values (teamwork, integrity, fun, commitment, and excellence).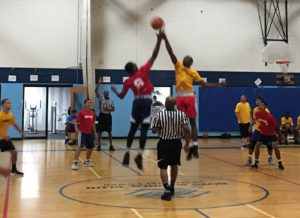 Basketball Travel league (Teens only)
The Club provides an opportunity to participate in a travel basketball league through the North East Hoops Building Community Bridges (NEHBCB) for High School students. The mission of the NEHBCBis to connect High School Age youth with positive experiences in different communities through competitive Basketball in a safe environment. The league starts in December.
IHoops League (14 under)
This league is devoted to our 14 and under club members. The league consists of 4 teams per group. Like all our programs the league is committed to help guide our club members toward understanding the importance of teamwork, commitment, sportsmanship, dedication and as well as having FUN. The league starts in March.
Daily Gym Activities
The double sized gymnasium is open each day for youth basketball, dodge ball, soccer, capture the flag, obstacle course, baseball, kickball, and other recreational games. Our daily activity is a part of the Presidential Fitness Challenge, in which our members are recorded performing 60 minutes of physical fitness every day.
Gamesroom Activities
The Club's Games Room is open each day for team and individual activities, including pool, four square, foosball, and board games. Emphasis is placed on individual skill building as well as cooperation, and sportsmanship.