There are several opportunities during the Holiday Season to get involved at the Boys & Girls Club.
Thanksgiving – Each year on the Wednesday before Thanksgiving, our Club hosts a Thanksgiving celebration with our members and their families. Individual and group volunteers help serve the meal, assist with fun activities with our members and provide nut-free desserts to make the day extra special. For information and availability to volunteer, contact Volunteer Manager, Lindsey Andella at landella@lbgc.org or 978-458-4526 x 20.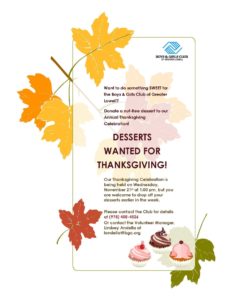 December Holiday Party – Each year before the winter break, our Club hosts a Holiday Celebration for our members. Our goal is to make the holiday's special for Lowell's most vulnerable youth, and make sure that each of our members receives at least one present during the season. Gift drives by our friends and businesses in the community make it possible for us to distribute over 400 gifts at our Holiday Celebration. We also accept donations of gift wrapping supplies as well!
To make your shopping easier – we've created a wish list on Amazon, and if you support the Club through Amazon Smile, they will make a donation to the Club at no extra charge to you! Click here to shop our Amazon wish list.
Click here to download our Holiday Wish list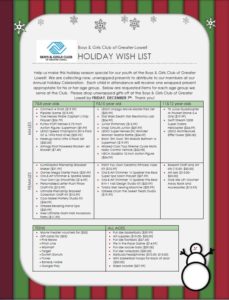 Click here for more information on our Holiday Celebration for Club members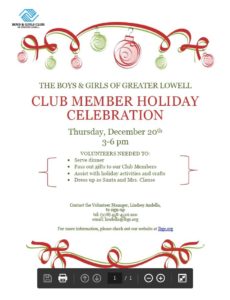 For more information, or to discuss other volunteer opportunities at the Boys & Girls Club, contact Volunteer Manager Lindsey Andella at landella@lbgc,org or 978-458-4526 x 20.