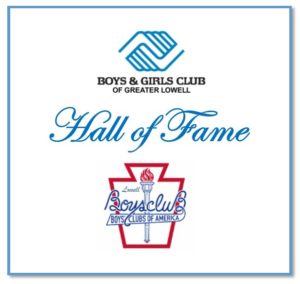 Nominations are currently being accepted for our 2021 Hall of Fame class. Completed nomination forms are due by June 15th, 2021 in order to be considered for this year's class. The 2021 Hall of Fame induction will take place on October 7, 2021 at Four Oaks Country Club.
Please click here to download a nomination form
Click here if you are interested in joining us on October 7th for the Hall of Fame induction (ticket information will be sent at a later date).
The Boys & Girls Club of Greater Lowell is proud of our alumni.  The Hall of Fame is designed to celebrate our alumni and stakeholders' achievements and their exceptional contributions to helping the Club achieve its mission. Hall of Fame inductees should inspire our members to know that they can reach the same heights and continue the Club's tradition of excellence and transforming lives.
(click here for brief bios of our inductees)
George Behrakis
Frederic C. Church, Sr.
George Demoulas
Telemachus Demoulas
Raymond Hamel
Major Walter Jeyes, Sr.
William "Billy" King
Arthur Koumantzelis
John A. Notini
Ray Riddick
William Vrettas
If you know of someone that you believe belongs in our Hall of Fame, please download a nomination form here.