The Boys & Girls Club of Greater Lowell has a long and rich history of being a safe haven for the youth of Lowell. Alumni of the Club represent many generations of Lowell, and offer today's youth a look at what life was like years ago, and the possibilities of what the future can offer them.
We invite all Alumni, whether you attended or worked on Dutton Street, or at our current Club on Middlesex Street to reconnect with the Club and join us at our annual Club Reunion.
 
Are you a Club Alumni? Please fill out the contact information below so that we can add you to our Alumni mailing list.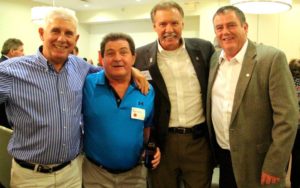 Our annual Club Reunion is an evening for those who attended, swam, or wrestled at either the Club on Dutton Street, or our current site on Middlesex Street, to join other Alumni for an evening of reconnecting and reminiscing.
Our 2017 Club Reunion is schedules for Wednesday, October 11th at Four Oaks Country Club.  Click here to see photos from previous reunions.
Please fill out the contact form above if you would like to receive an invitation to the Club Reunion.
For more information about the Club Reunion, or to discuss sponsorship opportunities, please contact Stephanie Souza at ssouza@lbgc.org or 978-458-4526 x 13.