"A personal journal is an ideal environment in which to "become".
It is a perfect place for you to think, feel, discover, expand, remember and dream."
Brad Wilcox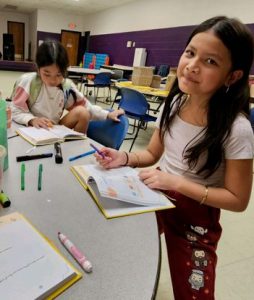 Club members ages 8 – 12 are doing just this with the new "Little Hero's Journal" program, started at the Club just this past winter. The Little Hero's Journal is A 13-week self-discovery adventure that empowers children aged 7+ to develop a growth mindset, a can-do attitude, and the confidence to be themselves.
Enrichment Coordinator Kara Danas describes the program as "an adventure where members have been exploring gratitude practices, self awareness in terms of their feelings and how they see themselves in the world, and an exploration of their creative talents, such as drawing and writing."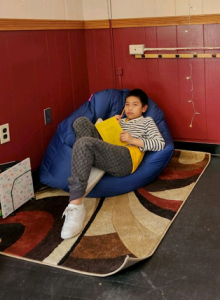 Finding young people tucked into the cozy Hygge Hangout quietly jotting or drawing may not be the first image that comes to mind when picturing the Boys & Girls Club, and it is indeed relatively new.  However, it is clear that while our Club members need a space to be active and engaged with one another, they also benefit from the ability to get away from the energy of the Club to reflect on their own. 
Journaling can help process feelings that children might not otherwise be able to communicate, or choose not to communicate, with a caring adult.  Journaling is a process in self-awareness, self-reflection, social growth, self-discovery and problem-solving that also builds artistic abilities, creativity, and literacy skills. Perhaps most importantly, journaling is a time for self-expression and reflection, in a non-threatening, non-judgmental place. (https://myfeellinks.com/blogs/news/the-benefits-of-journaling-for-children)
In the Little Hero's Journal program at the Boys & Girls Club, members independently respond to prompts in two pages in their own journal, and then share out as a group what they have written, drawn, and learned as a result of the week's teaching. This practice ties into the  social and emotional learning work that happens every day at the Club. From an academic standpoint, journaling also helps members make connections between new and previous knowledge.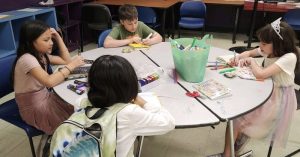 There is also evidence that creative writing in a group setting has a particular set of benefits for young people. In the University of Minnesota Extension's Youth Development Insights blog, author Sarah Odendahl shares the following research on the benefits of journaling in peer groups.* 
Engaging in creative writing in a group setting can help youth:
Back at the Boys & Girls Club, Kara  shares that "Members also love to take ownership of their journals and take it upon themselves to creatively decorate the outside of their journals all the time, sparking even more creative choice and freedom. " She goes on to say "…as more and more young people join the Club and the Little Hero's Journal program, I am finding that those new members who were a bit more reserved, after a few meetings, are eager to share what they are grateful for and how their day went."
If you want to learn more about the benefits of journaling, check out this article https://www.parentingforbrain.com/journaling/.  In addition to describing the benefits of journaling, the article offers tips and prompts for caregivers and educators who might want to start a journaling practice with the youth in their lives. 
*https://blog-youth-development-insight.extension.umn.edu/2023/03/benefits-of-creative-writing-in-groups.html
Get updates from the Boys & Girls Club of Greater Lowell