On the 2018 Day for Kids we invite the adults in our community to say with one loud voice:
"We support the youth in Lowell who need us most."
You can help our community raise $20,000 by September 14th to provide a safe place for Lowell's most vulnerable youth to access positive adult role models, engaging programs and a healthy dinner each day after school.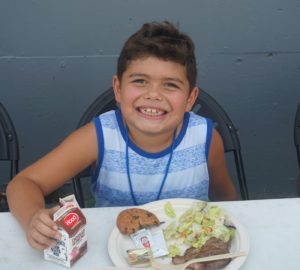 Did you know:
Although 20% of Lowell residents live in poverty, 40% of the young people who attend the Club live in poverty; 87% live in low income households. Research shows that youth living in poverty face many barriers to successful futures. (click here to learn more).
However, when you support the 2018 Day for Kids at the Boys & Girls Club, you help break down those barriers to success, and build skills and confidence youth need for a brighter future.
Join the Day for Kids today, because you have the power to change a child's future!
AND to make your voice heard even louder – every new or increased gift will be matched (up to $30,000)!
How you can make your voice heard loudest:
Start a fundraiser! Click on this link to get started – then share your fundraising page with your friend, family and co-workers to multiply the voices of those advocating for kids.
All individuals who raise or donate $50 or more will be entered into a raffle to win 4 Tickets to see the Red Sox play the Yankees on September 28th (tickets are valued at $320 total)
We want our community to see the many people and companies that want to impact the future of kids in Lowell-
Each individual who raises $100 or more will receive a Day for Kids t-shirt.
Any individual or company that raises $500 or more will have their name added to the Day for Kids appreciation wall.
Any individual or company that raises $1,000 or more will have an "Advocate for kids" sign placed in front of the Club with their name or logo on it.
Any individual or company that raises $2,500 or more will have their name or logo placed on a "Advocate for kids" banner to be displayed in front of the Club.
2018 Day for Kids Open House
We  invite anyone our community to join us for an open house from 2- 4 PM at the Boys & Girls Club of Greater Lowell. Here you will meet Club members and hear first-hand how your support impacts their lives. Take a tour of the Club and learn the many ways that you can get involved – from volunteering as a group or individual, to attending an event or hosting a group of teens at your place of business as part of our Career & College Readiness programs. Light refreshments will be served – please RSVP to Yesenia at ymaysonet@lbgc.org or 978-458-4526 x 13.