If you are a student between the ages of 13 and 18, and are looking for a place to go after school to spend time with friends, meet new people, and take advantage of opportunities to build leadership, refine artistic abilities, perfect and improve athletic skills, and prepare you for the future, come to the Boys & Girls Club of Greater Lowell!  We have specially designed programs for teens to challenge you physically, academically and artistically, and can provide you with the guidance and support to develop into an upstanding student and citizen.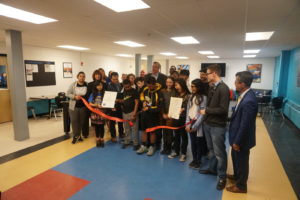 Our new Teen Center is now open!
Featuring: a spacious Teen Lounge
Career & College Readiness Center and computer lab
Teen Robotics and STEM Room
Our Teen Club Members enjoy their own Teen Center separate from younger members, and supervised by trained Teen Coordinators focused on providing services and activities for teenagers.  Complete with games, computers, couches, foosball, tables for homework and other projects, and a TV for movie nights, the Teen Lounge is the ideal after school destination. In addition, we offer tutoring and homework help, college and workforce readiness programs and group meetings in our new Career & College Readiness Center, and a variety of Science, Technology, Engineering and Math programs in our new Teen Robotics Room.
Our Club is open daily  from 6:00 – 8:00 PM exclusively for teens, giving teen Club members complete access to all of our program areas. The annual membership fee for teens is just $5.
Read about opportunities for teens provided through our Pathways Initiative
Below is a list of Teen Programs offered to all teen members:
Diplomas 2 Degrees
Diplomas 2 Degrees is our college and career preparation program, which gives teens the support and guidance needed for setting future education and career goals, and planning the steps to achieve those goals. Through weekly meetings and workshops, college and workplace tours, and professional networking events, teen Club Members prepare themselves to take charge of their futures.  See our Education and Career Development page for more information!
Keystone Club
Keystone Club is our premier teen leadership group for Club members between the ages of 14 and 18.  If you are looking to join a group of highly motivated teens, build your leadership skills, and make a positive impact on the Club and Lowell community, Keystone Club is perfect for you!  Keystoners elect their own officers, plan and implement self-guided community service and fundraising projects, and act as ambassadors for the youth at the Boys & Girls Club of Greater Lowell.  See our Character and Leadership page for more information!
Leaders-In-Training Internship
Teen Club Members participating in Diplomas 2 Degrees have the opportunity to join our Leaders-In-Training Internship program, and gain early work experience and critical professional development advice here at the Boys & Girls Club of Greater Lowell. Participants will assist staff in providing programs for younger Club Members, volunteer at community events throughout Lowell, build a Career portfolio complete with resume and cover letter, learn how to network professionally, and have a successful job interview. And all teens participating in our 3-month internship receive a monthly stipend check for their involvement!  See our Character and Leadership page for more information about this amazing opportunity!
FLY "Forever Loving Yourself"
FLY is a female only teen program with the focus of empowering our young women to become strong, confident, and successful members of their schools and communities.  Weekly meetings discuss a variety of topics, providing female teen Club members a safe environment to face the challenges arising as they grow and mature in adults. Topics include setting future goals, social media and body image, healthy relationships, drugs and alcohol, bullying, and more.
SKY program
SKY is the males-only equivalent to FLY, and focuses on providing our young men the supportive space to discuss topics that affect them as they mature into adults. Weekly meetings discuss many of the same topics listed above, and aim to improve male Club members preparedness for the future, and confidence as they go through changes involved with becoming adult citizens and community members.
Youth Council
Youth Council is new club for teens who want to involve themselves and have a voice in changes made to their community. The Club's Youth Council attends public hearings, action forums, peaceful protests, etc. Currently, the Youth Council is working with Project Learn  to bring change to the Lowell Public Schools. Some teens have participated in facilitation training to become better communicators and facilitate conversations with their peers and the community. The Youth Council helps develop skills such as public speaking, debating, and advocating effectively for what they believe is right.
Junior Staff
Teens in grades 9 to 12 that have completed CareerLaunch and participate in a Leadership Group (like Keystone) are eligible to apply for Junior Staff positions. Through these volunteer positions within the Club, teens will receive valuable youth development training and gain job readiness skills through hands-on work while serving their Club community.
Career Launch
Younger teens can participate in CareerLaunch which  is the Boys & Girls Club of America's job-readiness and career preparation program for teens. It provides fun and interactive activities for youth ages 13 to 18 to explore a broad range of career areas, match their interest to career clusters and identify the skills and education needed for their particular career path. CareerLaunch is designed to support youth in preparing for their first job, internships, summer employment and so much more!
Critical Thinkers Collective (CTC)
The Critical Thinkers Collective is an open and inclusive club that promotes group discussion, individual growth, and community awareness. The collective will be led by Commonwealth Corps Teen Enrichment Coordinator Raysam Donkoh-Halm through various subjects that will be applicable on various levels – including the individual, family, community, country, and global perspective. Weekly topics and activities will include group discussions, guest speakers, and community outings. Examples of topics covered include the idea of "roasting" vs. effective communication, masculinity, violence and symbolism, process of planning and protesting social issues or injustices.
Our Teen Programs don't stop there, either.  Be sure to visit the pages for our Music Clubhouse, as well as our Athletics, Arts and Technology program areas for more amazing programs offered only to teens.  Everyday between 6:00 pm and 8:00 pm, these areas run teen-only programs aimed to challenge and and engage teens in developing a variety of skills and abilities, while sparking inspiration for new hobbies and endeavors.