"Sometimes we don't always get to eat such good food at home. At least here we get good food every day." – Rebecca, 14
We know from a recent United States Department of Agriculture (USDA) report that one in five U.S. households with children under age 18 are "food insecure," or "hungry."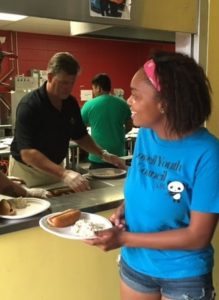 We know from personal experience that in our community this number is even higher and many of our members often go to bed hungry. Our Healthy Meals program  is critical to ensuring that no child in our program goes without dinner.
"Sally's food is really good and really healthy. It is probably the best meal that I eat all day." – Karolina, 11
Parents appreciate the Healthy meals program as well. As this Club member's parent told us:
"We know that Maddie is getting nutritious meals and snacks at the club which helps to make the program very helpful for all working parents and for our family "
Our Healthy Meals Program provides  250 fresh, healthy dinners to hungry children each day Monday through Friday. Since its start in 2012, the program has grown from serving 32,755 meals per year to 53,392 meals in 2016, and continues to grow – demonstrating just how great the need is.
About our Healthy Meals Program
Meals are served each weekday between 4:00 – 5:00 PM
Snack is served for teens each evening between 6:30 and 7:00 PM.
All meals are homemade on site by our Nutrition Manager, Sally Thayer and include a protein, veggies, grain, fruit and 1% milk.
Meals are included in the membership fee.