The Boys & Girls Club of Greater Lowell provides our members with opportunities to build character and develop their leadership skills through engaging programs that give them the chance to plan and complete community service projects, gain early employment experience, and hold leadership roles within the Club.
Keystone Club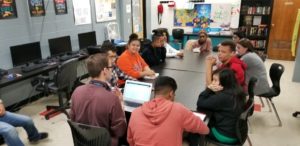 The Keystone Club is our premier teen leadership group comprised of 12-15 Club members between the ages of 14 and 18.  Keystoners elect officers, facilitate their own weekly meetings, and plan and implement community service and fundraising projects. This past year, our Mill City's Finest Keystone Club volunteered at the Lowell Folk Festival and Lowell Kinetic Sculpture Race, a 99 Restaurant fundraiser for Boys & Girls Clubs, and attended our annual Holiday Auction and Club Reunion.  In 2017, our Keystoners have set their sights on attending the National Keystone Conference to network with Keystoners from Clubs across the country.  
Torch Club
The Torch Club is our early leadership group for Club members between the ages of 11 and 13.  Similar to Keystone Club, Torch Club gives younger Club members the ability to start taking on leadership roles at the Club through planned community service projects, fundraising, and workshops aimed to assist them build strong character, and learn how to become a better leader.  Many Club members who participate in Torch Club go on to become Keystone Club members in the future.
Youth of the Month/Youth of the Year
Youth of the Month and Youth of the Year aim to recognize Club members modeling our values at the Boys & Girls Club of Greater Lowell by participating in various programs, volunteering at the Club and in the Lowell community, and acting as a role-model for their peers and younger members.  Each month, staff select Club members who they feel deserve extra recognition for their hard work and positive attitude.  At the end of the year, Youth of the Month nominees have the opportunity to participate in our Youth of the Year process, in which teen Club members gain valuable experience writing essays, speaking in public, and being interviewed.  The winner of the competition receives scholarships for college, meets elected city officials, then goes on to represent the Boys & Girls Club of Greater Lowell at the Youth of the Year Statewide competition.
Anthony Villa, our 2019 Youth of the Year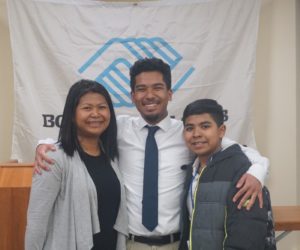 Leaders In Training Program
Our Leaders In Training Program provides teen Club members with an excellent opportunity to gain early work experience, critical professional development advice, and earn a small monthly stipend.  Interested teens can apply for a 3-month internship as they would a regular job, and earn points each month for participating in various programs offered at the Club aimed at their personal and professional development, volunteering at community events with Club staff, and assisting with programs for younger Club members.  Participants leave the program having created a resume and participated in networking and interview workshops, and ready to pursue employment opportunities.